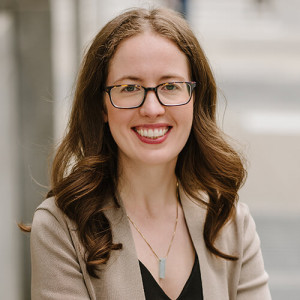 ---
Tiffany is dedicated to helping her clients stand up for their rights against powerful institutions, whether a corporation, a police department, or a prosecutor.
Since joining MacDonald Hoague & Bayless in 2014, she has focused on civil rights and employment litigation, with an emphasis on cases involving police misconduct, gender discrimination, and sexual harassment.
Tiffany is a strong believer in the power of preparation and is committed to knowing the facts of her cases inside and out. Her clients appreciate her attention to detail and ability to translate complicated cases into compelling legal arguments. She is a passionate written and oral advocate for her clients at all stages of a case, whether in pre-trial settlement negotiations, at trial, or on appeal.
Tiffany graduated from Stanford Law School in 2010, where she was a member of the Stanford Supreme Court Litigation Clinic, gaining a wide range of appellate experience writing petitions for review, merits briefs, and amicus briefs filed in the United States Supreme Court. During law school, Tiffany also worked at the Federal Public Defender's office in Seattle and at the United States Department of Justice Public Integrity Unit, which prosecutes public corruption cases.
After law school, Tiffany served as a judicial clerk to the Honorable Betty Binns Fletcher of the Ninth Circuit Court of Appeals and the Honorable Dana Fabe of the Alaska Supreme Court. Prior to joining MacDonald Hoague and Bayless, Tiffany was a litigation associate at Jenner & Block in Chicago, where she litigated a variety of cases at the state and federal level and maintained an active pro bono practice focusing on death penalty appeals. She was a co-author of an important amicus brief relied on by the United States Supreme Court in Hall v. Florida, which held that Florida's definition of intellectual disability in death penalty cases violated the Eighth Amendment's ban on cruel and unusual punishment.
In her free time, Tiffany enjoys being outdoors with her family and advocating for women's rights by serving on the Board of Directors for Legal Voice. She was raised in Kitsap County and is a proud graduate of Central Kitsap High School.
Tiffany has been recognized by Super Lawyers as a "Rising Star" in Washington for 2019 and 2020.
Results
A sample of Tiffany's achievements include:
A $15 million jury verdict for the family of an unarmed Black man killed by a SWAT sniper while he held his four-year-old son in his arms.
A $2.25 million settlement for the family of a Black teenager shot in the back by police.
A $2 million arbitration award against Amgen for failing to accommodate an employee's disability and wrongfully firing him after he sustained a head injury on a business trip.
A $549,000 jury verdict for a prisoner who was denied pain medication for multiple sclerosis.
A unanimous Washington Supreme Court decision holding that Western State Hospital discriminated against it employees by making staff assignments based on race.
News Coverage
The Seattle Times, "Jury awards more than $15m to family of unarmed black man killed by SWAT sniper in Fife"
Crosscut, "After $15m verdict, a Q&A about police shootings"
The Seattle Times, "King County agrees to $2.25M settlement with family of teen killed in misguided sheriff's sting operation"
The Seattle Times, "Washington prison inmate awarded $549,000 after he's denied pain medication for multiple sclerosis"
The Seattle Times, "Ruling: Race-based staffing decision at Western State Hospital violates law"

Professional and Civic Involvement
Legal Voice - Treasurer and Member, Board of Directors

Federal Bar Association for the Western District of Washington – Member, Local Rules Committee
Washington State Association for Justice
Washington Employment Lawyers Association
Washington Bar Association

Education
BA Political Science, with distinction, Stanford University (2007)
JD Stanford Law School (2010)
Honors and Awards
Super Lawyers "Rising Star," 2019 & 2020