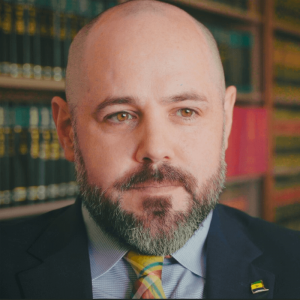 ---
Braden is a civil rights and criminal defense attorney with more than ten years of experience representing thousands of individuals at all stages of criminal and civil litigation, from pre-filing investigation through trial and appeal. Braden's civil practice focuses on police misconduct, personal injury, and jail neglect.
Raised in the Pacific Northwest, Braden graduated from the Seattle University School of Law, where he was voted Best Oral Advocate, served as the Chair of the Moot Court Board, and interned with prosecutor offices and civil litigation firms in a variety of capacities in King, Kitsap, and Snohomish counties, and the Municipality of Anchorage, Alaska. After law school, Braden spent one year clerking for the Honorable Thomas J. Wynne in criminal and civil trial rotations in the Snohomish County Superior Court. Braden then spent four years serving as a trial attorney with the Snohomish County Public Defender Association, where he filed high-impact civil rights litigation and learned firsthand how the criminal justice system is destructively and disproportionately inflicted on communities of color and the poor. In 2016, Braden joined the Mazzone Law Firm where he handled civil and criminal matters across the state before joining MHB.
Results
A representative sample of Braden's achievements in civil practice include:
Obtained emergency injunction in federal court against City of Seattle on behalf of the housing advocacy groups to allow an overnight protest to occur a city park.
Filed suit against the State for illegally warehousing mentally incompetent criminal defendants in county jails, often in solitary confinement, for months on end in violation of constitutional right to prompt treatment. The case ultimately resulted in tens of millions of dollars in sanctions against the State.
$3,100,000 settlement with Snohomish County to compensate for young woman's suffering and death due to neglect by jail employees, not including resolution of related claims against the jail's private healthcare contractor.
$1,550,000 settlement with City of Arlington, WA to compensate a seventeen-year-old girl who survived police shooting.
$1,250,000 settlement with insurance company to compensate for the death of young man caused by negligent driver
$1,000,000 settlement with Spokane County to compensate for wrongful fatal police shooting of a homeless man.
$420,000 settlement with insurance company to compensate driver for permanent injuries suffered during head-on collision
$150,000 settlement with the State to compensate formerly incarcerated man arrested on an "escape warrant" several years after completing his sentence because of the State's miscalculations and errors.
$90,000 settlement with Island County on behalf of an unhoused man assaulted by a sheriff deputy.
$36,000 settlement with Snohomish County on behalf of man injured by sheriff deputy during arrest.
$21,000 settlement with Snohomish County to compensate young person unlawful arrested and booking into jail for dangling a donut in front of a sheriff deputy and criticizing police.
$20,000 settlement with City of Lynnwood, WA to compensate disabled man injured due to excessive force while detained at city jail
$15,000 settlement with State to compensate prisoner for injuries suffered due to deliberate indifference to serious medical need
$10,000 settlement with City of Seattle to compensate unhoused person whose property was unreasonably seized and destroyed during encampment raid.


Education
B.A., Grinnell College, 2005
J.D. cum laude, Seattle University School of Law, 2010
Professional Licenses & Associations
Admitted to practice before all courts of the State of Washington
Admitted to practice before the United States District Court for both the Western and Eastern Districts of Washington
Admitted to practice before the Tulalip Tribal Court
Washington State Bar Association, member
Order of the Barristers, member
National Lawyers Guild, member
Washington Association of Criminal Defense Lawyers, member
Washington State Association for Justice, member