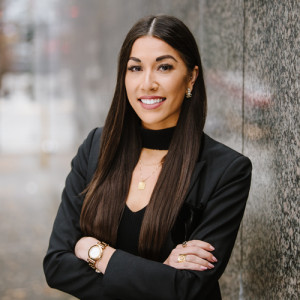 ---
Lauren's experience in civil rights litigation fuels her passion to hold institutions and law enforcement agencies accountable to achieve justice for her clients.
Lauren I. Freidenberg is a senior associate attorney at MacDonald Hoague & Bayless. She has been devoted to civil rights litigation since she obtained her license to practice law in California in 2016. At MHB, Lauren's cases include wrongful death, excessive force, and violations of the Fourth, Fifth, Eighth, and Fourteenth Amendments against state and federal law enforcement officers/agencies. Lauren's other practice areas include public records, employment law, personal injury, and general civil litigation.
Prior to working at MHB, Lauren was an associate attorney at renowned law firms in Los Angeles, California and San Diego, California that specialized in high-profile, complex civil rights cases in state and federal courts. Lauren has secured results for her clients in excess of $35 million dollars during her practice in California. Witnessing tangible policy improvements to transparency and accountability within law enforcement departments is one of the most rewarding aspects of Lauren's work. During law school, Lauren gained valuable experience through her many internships and volunteer work. Notably, Lauren clerked at the San Diego Alternate Public Defender's Office and at the University of San Diego School of Law's Small Claims Clinic, which provided legal services to low-income residents throughout numerous San Diego communities. Lauren served as the Diversity, Equity, and Inclusion Chair for the San Diego Lawyer Chapter for the American Constitutional Society for Law and Policy and was an active member of Pan Asian Lawyers of San Diego, Southern California Chinese Lawyers Association, and the local chapters of the National Lawyers Guild. Lauren also served on the Executive Board of the Coalition of San Diegans for Justice, a community-based coalition that advocated for law enforcement accountability and public trust.
After spending 12 years in the Southern California area, Lauren has returned to her hometown, as she is originally from Seattle, Washington. In her spare time, she enjoys reading, running, and traveling. As a former collegiate basketball player at UC San Diego, Lauren also enjoys playing basketball and attending open gyms on the weekends.
Education
University of San Diego School of Law, J.D.
University of California, San Diego, B.A., B.A.
Professional Memberships
Asian Bar Association of Washington
National Police Accountability Project
Seattle Chapter National Lawyers Guild
Southern California Chinese Lawyers Association
Awards and Recognition

National Police Accountability Project, R. Samuel Paz - Sonia M. Mercado Civil Rights Scholarship Awardee, 2022
Super Lawyers, "Rising Star" in Civil Rights, 2023
Lawyers of Distinction, Excellence in Civil Rights Litigation, 2023
Best Lawyers in America, "One to Watch" in Civil Rights Litigation, 2024
Admitted to Practice
Supreme Court of Washington
United States District Court, Western District of Washington
Supreme Court of California
United States District Court, Central District of California
United States District Court, Southern District of California
United States District Court, Eastern District of California
Ninth Circuit Court of Appeals